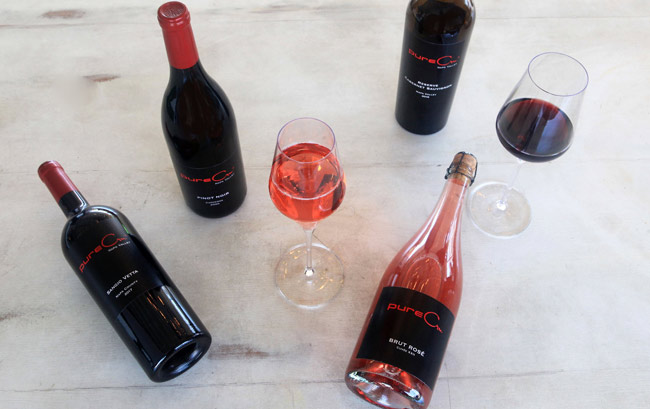 Drink up now and add a few to your collection for later by making your club shipment an even dozen for the same shipping price of just $25! That is up to a $75 savings!
Use your club login to gain access to Mitch's Secret Cellar and take advantage of this member perk.
YOUR CLUB SELECTIONS:
These wines are bright and bubbly, full bodied and intensely rich. Each with the balance and structure we have come to expect from Mitch's wines.
Brut Rosé Cuvée XXII
98 Points! 100% Sangiovese. The hue is almost electric pink with beautiful effervescence and a very tiny bead. The pure fruit essence and exceptional balance are on display for the nose and palate.
2020 Pinot Noir, Carneros, Napa Valley
100% Pinot Noir. This vintage is broad and rich on the palate, yet balanced with spice, earth and a pure fruit core. Spice box aromas with pomegranate, cherry and a stony minerality.
2018 Reserve Cabernet Sauvignon, Napa Valley
In Napa Valley Cabernet Sauvignon is King. This is the very first RESERVE Cabernet Sauvignon for pureCru Winery. There are only three barrels of this wine. It is what one would expect from a special Reserve wine, expansive and rich but with balance and structure to age for many years.
2017 Sangio Vetta, Napa Valley
Historically this wine from its hillside vineyard has a potential for developing and complexing for up to two decades. Pomegranate, rhubarb, and clove dominates the up front. Big, structured and intense. Notes of pomegranate, plum with ripe tannins and mineral characteristics.
THE DETAILS:
Through May 22nd: Add wines from Mitch's Secret Cellar selections, and make changes to your information, including if you would like to pickup your wines at the upcoming party. Must RSVP.
May 24th: Club billing date
June 5th: Club shipment date. We can upgrade to fed ex two-day air for $25 off the total shipping price. Please email Maria to let her know.
June 11th: Wine Club Pickup Party! Featuring Chef Anthony and a surprise food pairing with our club featured wines! Space is limited to the first 45 guests who RSVP!
RSVP: email Maria@pureCruWines.com by June 8th.
Time: 2pm – 5pm
Place: Feast it Forward Tasting Room
Complimentary for Members, guests are $25 per person.
If you would like to pickup your club wines at this party, please let us know May 22nd.
Information Updates:
To update your club information, please log into your account or contact Maria Newman at (707) 603-2943, or Maria@pureCruWines.com.
Cheers,
Mitch, Maria, and the pureCru Winery Team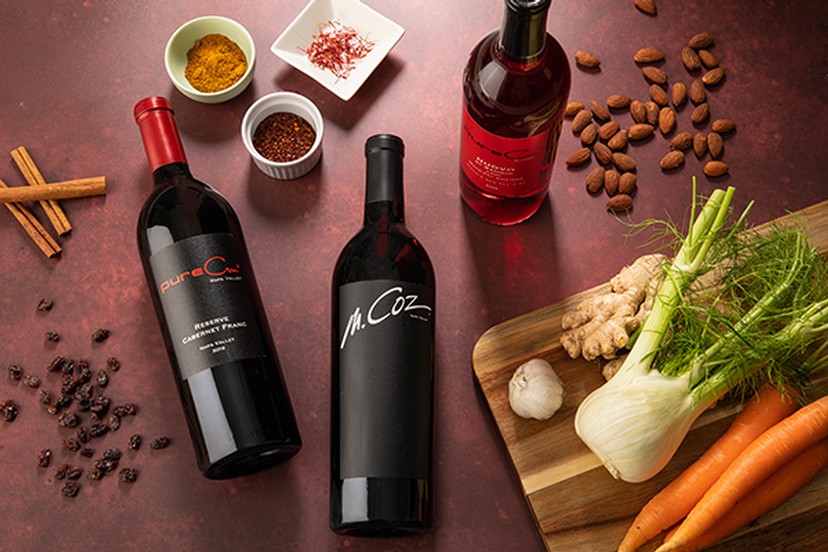 We are pleased to announce our Winter Wine Club Release! Please click here to download a delicious recipe to pair with your wines, courtesy of Celadon Restaurant, in Downtown Napa.
Club Selections:
Use your club login to gain access to Mitch's Secret Cellar Selections, and add them to your shipment!
New flat rate shipping applies!
Your Wine Club shipment includes the following wines:
THE DETAILS:
Through February 8th: Add wines from Mitch's secret cellar selections, and make changes to your information, including if you would like to pickup your wines at the upcoming party. Must RSVP.
February 9th: Club billing date
February 20th: Club shipment date (weather permitting)
February 25th: Wine Club Pickup Party! Come and taste our newest releases and library offerings, enjoy tasty bites, and say hello to Mitch and the gang.

RSVP: email Maria@pureCruWines.com by February 8th.
Time: 1 pm – 4pm
Place: 2545 Napa Valley Corporate Drive, Suite C. Napa
Complimentary for Members Only
Upcoming Events:
Supper Series Winemaker Dinner at Celadon
March 5th | 5:30 pm Extremely Limited Seating
Member tickets: $125 > Click Here to Purchase
Click Here to view our 2023 Club Events Calendar
Information Updates:
Cheers,
Mitch and the pureCru Winery Team
Happy Holidays from Mitch and all of us at purCru Napa Valley. We had so much fun at our recent Holiday Supper Series Dinner, and we can't wait to come together for our next event.
Mar. 5, 2023 – Supper Series Dinner at Celadon (Only 19 tickets available)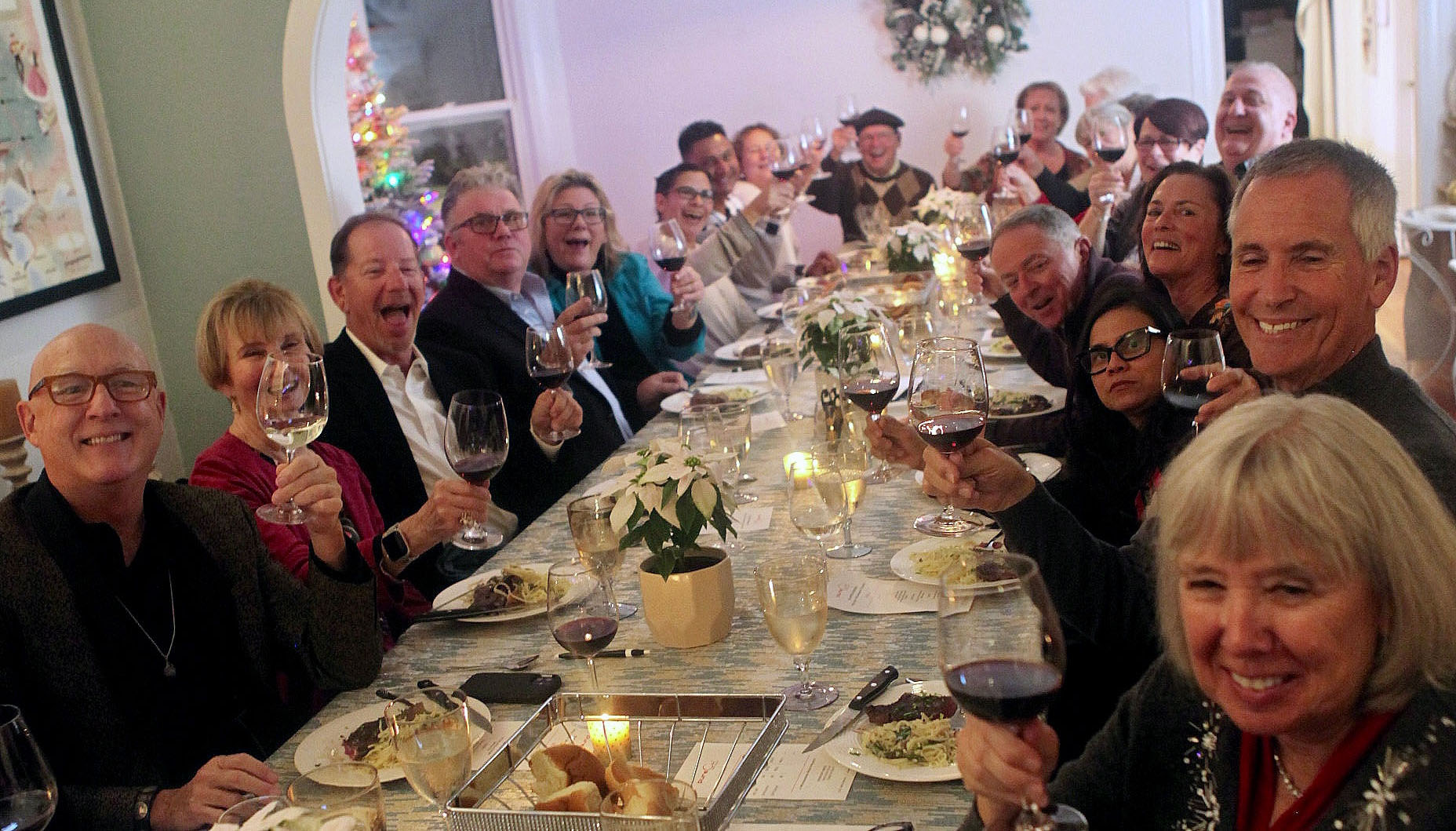 4 wines from 1 grape...
Rosso di Sangio | Brut Rose | Nuovo | Rosato
From Mitch:
While pureCru Winery is a Napa Valley Winery, occasionally we will acquire grapes from an old Lodi family that has been growing prized fruit for many decades. I first discovered them in the early '90's. I found Mohr-Fry vineyards to be growing grapes to Napa Valley standards. Exceptional quality with excellent balance. I still use several grapes they grow for clients for whom I make wine. And I still use one of their youngest vineyards albeit about 25 years old. The grape is Sangiovese. This vineyard is quite amazing because over the years I have made award-winning Red and Rose wines from these grapes. In the past two years I have developed two other new wines from the same grapes. last year we developed a totally new style of BRUT ROSE Sparkling wine made from the same Sangiovese using a new method of Single Stream Fermentation (TM) which became a revelation and sold out in less than 5 months while earning more Gold medals and a 98 point score. The new bottling is coming out now and already has scored another unheard of 98 points in it's first review a few days ago. Then for 2022, we made something that I haven't made in a couple of decades, a Nouveau (a fresh new wine from the vintage). But whereas the typical wine of this style is made from Beaujolais or Gamay, ours is from the same Sangiovese vineyard picked earlier than most Red wines to make a lighter, crisp, fresh fruit, dry style young red that can be consumed at cellar temps or even with a slight chill to it. Bottled in clear glass to show of it's brilliant strawberry red color.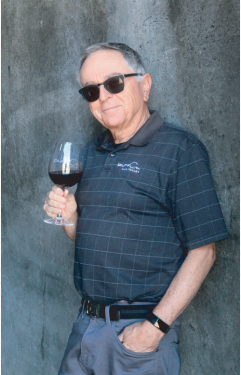 It is the last part of August. I am embarking on my 43rd harvest . . . I have had to let that sink in for a minute or two . . .
In the early 80s, my quest started with the Bordeaux varietals of Merlot and Cabernet Sauvignon and the goal of making affordable World Class wines. While getting started, I also took a dive into doing a Brut style Blanc de Noirs sparkling wine made from non-traditional grapes. I called it Robin's Glow as the color showed proudly in flint (clear, colorless glass). I actually started that before making any commercial white wines. I made that wine for several years but while it was building popularity the costs to make bubbles then for a realistic return tied up too much money in that marketplace. 40 years later, I dove in again last year making another Brut style sparkling with color from non-traditional grapes. But this time in a new and untested method that we developed on our own, Single Stream Fermentation. Although very limited in production, it has been a rousing success and sold out within six months of release.
Harvest 2022 is starting and the first grapes of the year are the grapes for the second edition of our Brut Rose. More information on that in the future. This vintage shows great promise at this point as 2021 showed and produced. It is still early and while yields are variable depending on the variety and exact vineyard location, we are hopeful and optimistic.
Coming up is another unusual and different offering that I have had only two releases since my winemaking beginning. It is a grape rarely bottled because while it is regularly an important Bordeaux grape in blending with others, it only rarely produces a complete wine on it's own: Petit Verdot, not to be confused with the more widely known and unrelated Petite Sirah a Rhone type grape. This release will only be my third for pureCru Winery. The first two were 2012 and 2013. Uniquely dense and concentrated with very pretty aromatics which is not common every year. This is very intriguing.
June 25th was a wonderful kick-off to the summer season in the Napa Valley as some of our favorite members and private clients joined us for a whole lot of fun! Our gathering started with a taste of the Brut Rose bubbles and vineyard stroll at Feld Vineyard in Carneros. Long-time, customer, friends and now new grower partners Larry and Kelle graciously hosted us at their beautiful vineyard property where I led guests on a walkabout in the Pinot Noir rows. The 2019 was the first vintage where the Feld's grapes have made a contribution to our Carneros Pinot Noir. And did it really contribute by adding a big structure note with added depth. I have been helping in the vineyard development and newly added plantings there. The next two vintages ('20 & "21) will become more important. The vineyard this year looks even more promising!! While some vineyards are looking at smaller yields this year, the Feld Vineyard is not one of those. Seeing a good amount of fruit that may require some thinning this year.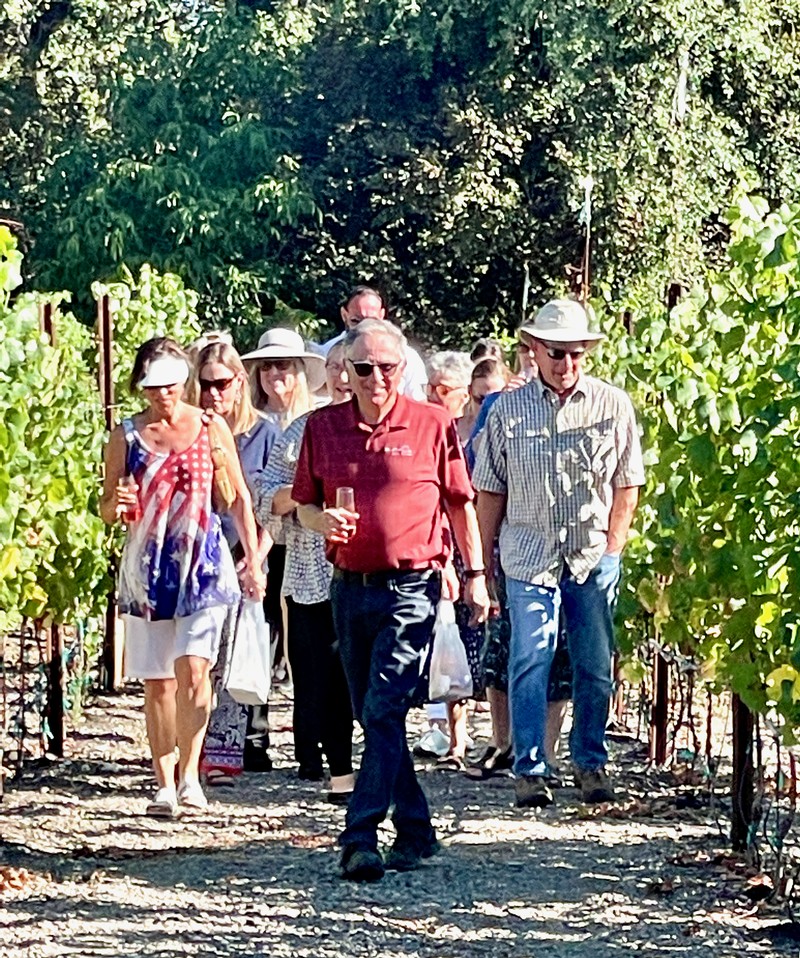 A summer dinner was served by our friends at NapaSport who thoughtfully paired three pureCru summer release wines with delicious courses. I shared a surprise pour of the 2017 M. Coz that paired magically with the chocolate dessert. One of the evenings show stoppers was my new release "2021 AMT White Blend" as everyone had great things to say about this unique wine. It is primarily made from Torrontes which is a new discovery for most. It is from a unique visionary grower in the newer Alta Mesa appellation. I am still getting calls and notes from members who are really enjoying this new dry and different white wine discovery!


And more summer fun is planned for this weekend! We hope to see many of you at Festival Napa Valley - the Taste of Napa Valley event this Saturday at Vista Collina. pureCru wines is a sponsor and I have hand selected some special pureCru wines ideal for summer sipping that include the 2016 PureCoz, 2017 Purety, 2017 CFM and the first of its kind 2021 AMT White Blend.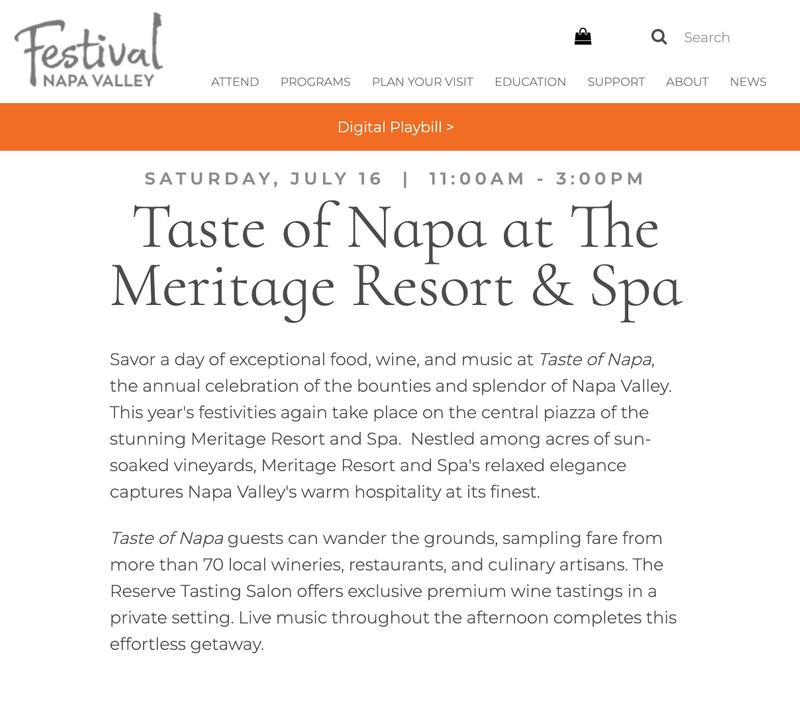 Wishing you all a wonderful summer season filled with special moments and delicious wines! Save the date for our member gathering this fall set for September 17th. Watch for member event invitations to release early August and reach out if you would like to request a private tasting appointment this summer.
Cheers!
Mitch Cosentino
---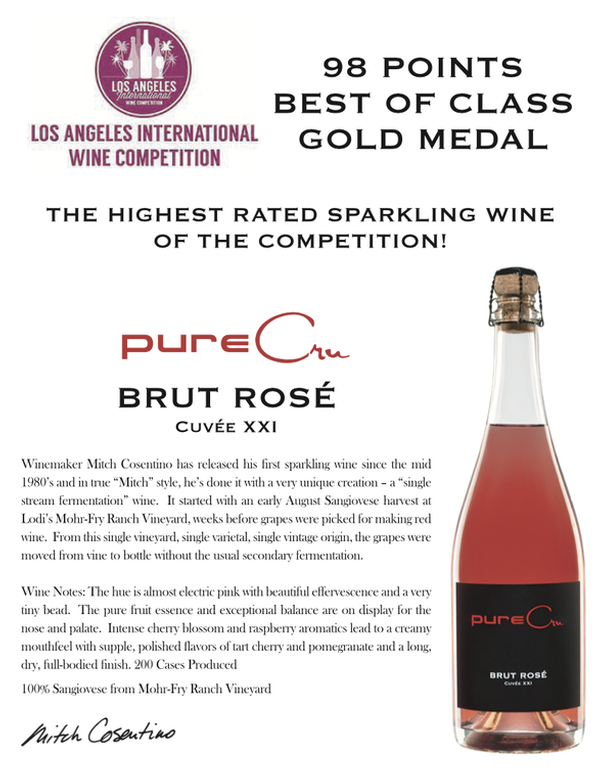 Greetings!
I hope that you are enjoying this wonderful springtime weather. I am excited to share some good news in today's Journal post.
There has been a lot of buzz about my new sparkling wine so thought I would share some updates. The pureCru Brut Rosé Cuvee XXI sparkling wine was made to test as a proof of concept and has been undergoing testing in all forms of the wine marketplace, where it is now proving to be extremely well received. I am honored to share that my first pureCru sparkling wine release took home "Best of Class" and 98 points at the recent Los Angeles International Wine Competition.
Today, the first of its kind, pureCru Brut Rosé, will be offered as a special allocation to our members and private clients. We only made 200 cases of this limited-release wine and our members always get first-access. I am looking forward to my next sparking release that you will hear about in the future.
This is my first sparkling wine release since the mid-1980's and my way - a very unique creation, a "single stream fermentation" wine. It started with an early August Sangiovese harvest at Lodi's Mohr-Fry Ranch Vineyard, weeks before grapes were picked for making red wine. From this single vineyard, single varietal, single vintage origin, the grapes were moved from vine to bottle without the usual secondary fermentation. The fruit was de-stemmed into the press in Napa Valley, where the broken berries were left to develop the desired color. The juice was then inoculated to start fermentation, and midway through this stage the fermenting juice was moved to a state-of-the-art sparkling winery in Lodi and transferred to a custom tank that provided a precisely measured point to curtail the fermentation and capture the remaining CO2 and the bubbles as the fermentation concluded. The closed system allowed me to rack, filter and bottle this natural sparkling wine without losing the effervescence from the initial fermentation, thus there was no need for dosage or the traditional two step fermentation process. This method required an unusual amount of my care and observation but allowed the retention of all of Sangiovese's natural fruit essence and the acidity that makes this an ideal grape for this sparkling Rosé.
My inspiration for this new concept both from the uncommon and wonderful aromatics of this grape during fermentation and the great character that I have seen in making dry still wine Rosés from it. It was my goal to capture the pure, natural essence of the grape in a Brut form. You can find detailed wine notes below.
Until next time, enjoy the good life, and thank you for your support of pureCru Wines.
Cheers!
Mitch Cosentino
---
Wine Notes: The hue is almost electric pink with beautiful effervescence and a very tiny bead. The pure fruit essence and exceptional balance are on display for the nose and palate. Intense cherry blossom and raspberry aromatics lead to a creamy mouthfeel with supple, polished flavors of tart cherry and pomegranate and a long, dry, full-bodied finish.
Brut in style with less than 1% natural residual grape sugar
pH of 3.29
13.2% alcohol
100% Sangiovese from Mohr-Fry Ranch Vineyard
Total production: 200 cases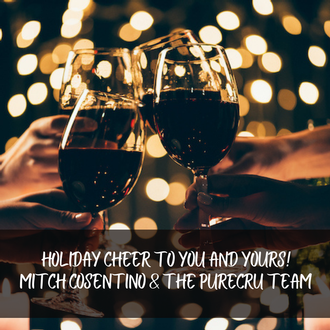 Oh what a year it's been here at pureCru Winery as I released new wines including a special dedication Cabernet Sauvignon "The Prab" to our dear friend who passed away as well as a new bottling of our 2017 CFM Cabernet Franc-Merlot that will be released to our club members early next year!
I have also enjoyed my time mentoring up-and-coming winemakers including Paul Scotto. We have been working on some fun new projects and spending time with our grower friends in Napa, Sonoma, and Lodi as we work with the "old" and some new varietals including Torrontes for the spring
We are excited to release a first-of-its-kind pureCru wine next spring! Our members and private clients will be invited to a Spring Release Party in Napa on March 12th as we reveal this new wine.
This holiday season, I will be enjoying several multi-course dinners with a very diverse collection of wines, where I will be hosted by some close friends and club members over the next 10 days (lucky me!). In between these dinner gatherings, I will spend a little time with a couple of my dear friends and most "mature" family members known as the "Aunts". So there will be some old traditions with some new holiday traditions. I will be selecting all styles of wine (including a couple of new and not yet released "Prototypes" to fit the various cuisines from Rose (ideal with Turkey and Ham) with the Purety Meritage White going with everything through Pinot Noir and into the Reserve Cab Franc, pureCoz and M.Coz to handle the heavier fare. This is kind of like having 3 or 4 "Thanksgivings" through Christmas to end this year and welcome the next!
I wish our pureCru friends and partners much joy this holiday season and in the year ahead. Salute' Eat and drink well. Enjoy every minute, cherish everyone, and stay safe. I look forward to making more memories together in 2022.
Cheers!
Mitch Cosentino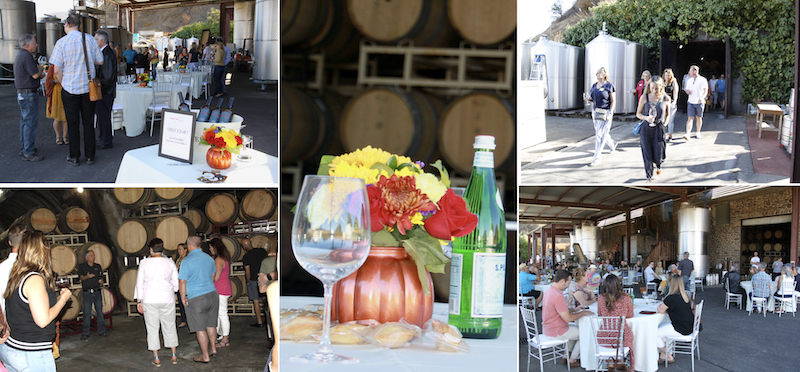 Saturday, October 16th delivered the perfect weather to enjoy our pureCru 2021 Harvest Celebration at the crush pad in Napa. Private clients and long-time friends joined us for a day of festivities at our winery located in the mountains, east of the city of Napa. Invited guests enjoyed an "Exploration of Cabernet Franc" with a tasting of the 2016 current release, a barrel sample of the 2021 juice just two weeks in fermentation, and a library tasting of the 2013. Small bites from Tarla Napa paired perfectly with the wines as I shared stories from each of these vintages. We also toured the old cave for the barrel tasting and had a walkabout in the vineyard areas.
I enjoyed showing our guests the inner workings of the production winery and answering some fun questions! The interaction with this group was festive and energizing. As a special treat, we concluded the event with a preview of "The Prab" allocation wine that I made as a special memorial, dedicated to our old partner and doctor friend, Prab. This wine is a one-time release bottling of his favorite blends of the two rarest clones of Cabernet Sauvignon grown in Napa Valley, including the Secret Clone. Guests were offered a limited allocation of what was only a two-barrel production.
As I wrap up my 42nd harvest, I reflect back on what has been another unique vintage shaped by our drought conditions here. 2021 has given us very small yields both in the vineyards and in the juice to skin ratios among most of the fruit. But the results, although smaller than desired, will produce wines of great density and intensity of fruit concentration and character. Expect this vintage to be terrific, maybe even monumental albeit limited in numbers. Many of the reds are already showing great balance destined to be dynamic and flavorful!
This was truly the perfect day in Napa wine country. The pureCru team and I look forward to hosting our next member event in early spring with a surprise release.
Cheers!
Mitch Cosentino
Cheers to everyone!
Harvest is going strong, and every day is a new tale with the 2021 vintage. So far it all looks a lot better than 2020. We are experiencing small crops for many grapes, but the quality looks very high. Harvest started early but a cool spell has slowed things down a bit. In August, we picked Sauvignon Blanc and Sangiovese for Rose. The first reds we picked were Pinot Noir from Carneros on September 2nd, followed by more Pinot and some other fun reds.
I'll let you in on a secret (or two): we are working on a unique new wine that we hope to have out before the holidays. Can't say more yet, but it should rock! Stay tuned! Also, 2021 will mark the first harvest from my new Oak Knoll District Estate of Secret Clone Cabernet Sauvignon (pictured above). It is small in its first year (we're looking at higher yields over the next few years) and where the wine goes won't be determined for some time, but it promises to be exciting.
Stay Connected & Receive Private Invitations
Join our Mailing List
Receive periodic updates, invitations and special wine access information