---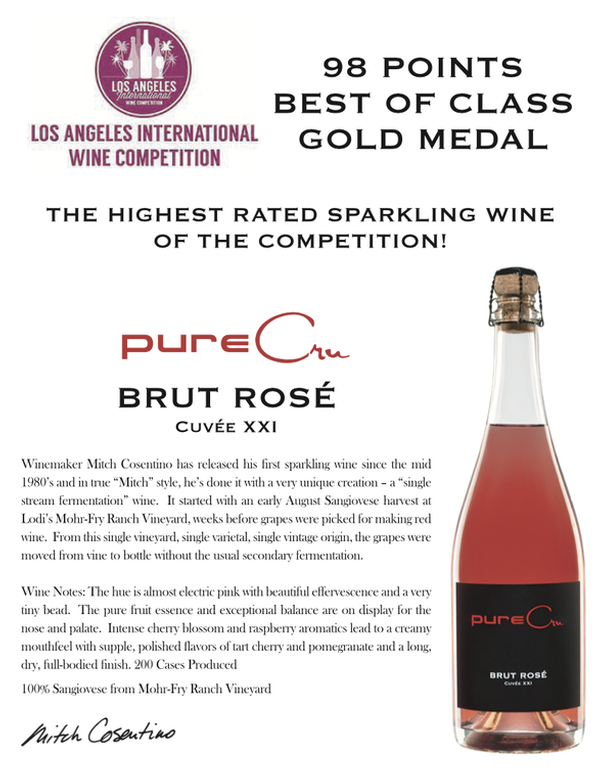 Greetings!
I hope that you are enjoying this wonderful springtime weather. I am excited to share some good news in today's Journal post.
There has been a lot of buzz about my new sparkling wine so thought I would share some updates. The pureCru Brut Rosé Cuvee XXI sparkling wine was made to test as a proof of concept and has been undergoing testing in all forms of the wine marketplace, where it is now proving to be extremely well received. I am honored to share that my first pureCru sparkling wine release took home "Best of Class" and 98 points at the recent Los Angeles International Wine Competition.
Today, the first of its kind, pureCru Brut Rosé, will be offered as a special allocation to our members and private clients. We only made 200 cases of this limited-release wine and our members always get first-access. I am looking forward to my next sparking release that you will hear about in the future.
This is my first sparkling wine release since the mid-1980's and my way - a very unique creation, a "single stream fermentation" wine. It started with an early August Sangiovese harvest at Lodi's Mohr-Fry Ranch Vineyard, weeks before grapes were picked for making red wine. From this single vineyard, single varietal, single vintage origin, the grapes were moved from vine to bottle without the usual secondary fermentation. The fruit was de-stemmed into the press in Napa Valley, where the broken berries were left to develop the desired color. The juice was then inoculated to start fermentation, and midway through this stage the fermenting juice was moved to a state-of-the-art sparkling winery in Lodi and transferred to a custom tank that provided a precisely measured point to curtail the fermentation and capture the remaining CO2 and the bubbles as the fermentation concluded. The closed system allowed me to rack, filter and bottle this natural sparkling wine without losing the effervescence from the initial fermentation, thus there was no need for dosage or the traditional two step fermentation process. This method required an unusual amount of my care and observation but allowed the retention of all of Sangiovese's natural fruit essence and the acidity that makes this an ideal grape for this sparkling Rosé.
My inspiration for this new concept both from the uncommon and wonderful aromatics of this grape during fermentation and the great character that I have seen in making dry still wine Rosés from it. It was my goal to capture the pure, natural essence of the grape in a Brut form. You can find detailed wine notes below.
Until next time, enjoy the good life, and thank you for your support of pureCru Wines.
Cheers!
Mitch Cosentino
---
Wine Notes: The hue is almost electric pink with beautiful effervescence and a very tiny bead. The pure fruit essence and exceptional balance are on display for the nose and palate. Intense cherry blossom and raspberry aromatics lead to a creamy mouthfeel with supple, polished flavors of tart cherry and pomegranate and a long, dry, full-bodied finish.
Brut in style with less than 1% natural residual grape sugar
pH of 3.29
13.2% alcohol
100% Sangiovese from Mohr-Fry Ranch Vineyard
Total production: 200 cases
Stay Connected & Receive Private Invitations
Join our Mailing List
Receive periodic updates, invitations and special wine access information