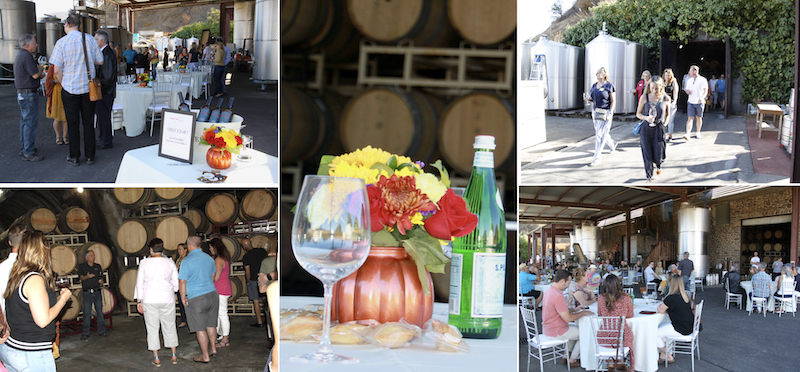 Saturday, October 16th delivered the perfect weather to enjoy our pureCru 2021 Harvest Celebration at the crush pad in Napa. Private clients and long-time friends joined us for a day of festivities at our winery located in the mountains, east of the city of Napa. Invited guests enjoyed an "Exploration of Cabernet Franc" with a tasting of the 2016 current release, a barrel sample of the 2021 juice just two weeks in fermentation, and a library tasting of the 2013. Small bites from Tarla Napa paired perfectly with the wines as I shared stories from each of these vintages. We also toured the old cave for the barrel tasting and had a walkabout in the vineyard areas.
I enjoyed showing our guests the inner workings of the production winery and answering some fun questions! The interaction with this group was festive and energizing. As a special treat, we concluded the event with a preview of "The Prab" allocation wine that I made as a special memorial, dedicated to our old partner and doctor friend, Prab. This wine is a one-time release bottling of his favorite blends of the two rarest clones of Cabernet Sauvignon grown in Napa Valley, including the Secret Clone. Guests were offered a limited allocation of what was only a two-barrel production.
As I wrap up my 42nd harvest, I reflect back on what has been another unique vintage shaped by our drought conditions here. 2021 has given us very small yields both in the vineyards and in the juice to skin ratios among most of the fruit. But the results, although smaller than desired, will produce wines of great density and intensity of fruit concentration and character. Expect this vintage to be terrific, maybe even monumental albeit limited in numbers. Many of the reds are already showing great balance destined to be dynamic and flavorful!
This was truly the perfect day in Napa wine country. The pureCru team and I look forward to hosting our next member event in early spring with a surprise release.
Cheers!
Mitch Cosentino
Cheers to everyone!
Harvest is going strong, and every day is a new tale with the 2021 vintage. So far it all looks a lot better than 2020. We are experiencing small crops for many grapes, but the quality looks very high. Harvest started early but a cool spell has slowed things down a bit. In August, we picked Sauvignon Blanc and Sangiovese for Rose. The first reds we picked were Pinot Noir from Carneros on September 2nd, followed by more Pinot and some other fun reds.
I'll let you in on a secret (or two): we are working on a unique new wine that we hope to have out before the holidays. Can't say more yet, but it should rock! Stay tuned! Also, 2021 will mark the first harvest from my new Oak Knoll District Estate of Secret Clone Cabernet Sauvignon (pictured above). It is small in its first year (we're looking at higher yields over the next few years) and where the wine goes won't be determined for some time, but it promises to be exciting.

Summer is already upon us! We are excited to announce the Summer 2021 Wine Club shipment. It will be coming just before the start of the 2021 Harvest, as we usually start harvesting the white grapes in August.
Here in Napa Valley, we are on the brink of having herd immunity and are fully opening up life again. Napa Valley hasn't been a bad place to be stranded but we all look forward to getting out. We are also looking forward to welcoming back all of our visitors to the Valley.
"What do the grapes look like?" is always a big question this time of the year. A year ago it looked like the beginning of a perfect vintage. Of course, it didn't work out that way as we were hit with late summer fires that caused the largest disruption of any harvest in the history of Napa. Total volume was off by 40% with grape prices dropping for the vintage. A lot of grapes were left unpicked because of both potential or actual smoke taint.
White grapes, where the juice was pressed off the skins, came through outstanding and balanced for the most part. The red grapes were another story, inconsistent depending on where exactly they were grown in Napa. The southern part of Pope Valley seemed to come through it all very well as it was mostly protected by favorable winds and the mountains around Lake Hennessey and Howell Mountain. This is and has been a key source of grapes for me since the '90s. But we had to reject Cabernet, Merlot, and Petite Verdot from other areas. For now, we will hope a relatively dry winter won't see us return to the problems of 2020.
As for this club shipment, we are doing the two MC Signature classics: the new 2016 MC Signature Cabernet Sauvignon and the 2017 MC Signature Chardonnay. These are being released at just the perfect time. Both are intensely focused and well-balanced.
The 2016 Cabernet Sauvignon is from a virtually perfect vintage. This is not one to miss and considering the Club price, compare it to any other red in the 3-digit dollar range.

The 2017 Chardonnay from the Oak Knoll District is much like a red wine. Aged for 15+ months in specially made French oak barrels exclusively designed for me and the wines I make, it's close to Meursault from Burgundy. I call this a Red Wine drinkers' white wine. It's a Chardonnay not to be afraid of, one you do not want to miss that will age and develop for at least a decade.

The Red Wine Club option will include the last shot at a club favorite, the 2013 Cabernet Franc Merlot is being included at a special Club-only price. This is the last CFM for a while as the next vintage release has not yet been determined.
I know you will enjoy this selection.
Cheers, Mitch
Stay Connected & Receive Private Invitations
Join our Mailing List
Receive periodic updates, invitations and special wine access information