December 23, 2021 | Mitch Cosentino
Happy Holidays and Cheers to 2022!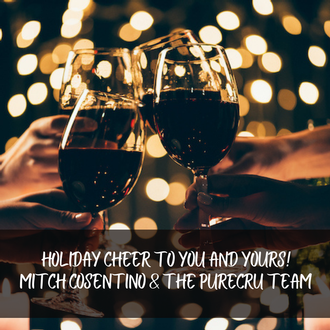 Oh what a year it's been here at pureCru Winery as I released new wines including a special dedication Cabernet Sauvignon "The Prab" to our dear friend who passed away as well as a new bottling of our 2017 CFM Cabernet Franc-Merlot that will be released to our club members early next year!
I have also enjoyed my time mentoring up-and-coming winemakers including Paul Scotto. We have been working on some fun new projects and spending time with our grower friends in Napa, Sonoma, and Lodi as we work with the "old" and some new varietals including Torrontes for the spring
We are excited to release a first-of-its-kind pureCru wine next spring! Our members and private clients will be invited to a Spring Release Party in Napa on March 12th as we reveal this new wine.
This holiday season, I will be enjoying several multi-course dinners with a very diverse collection of wines, where I will be hosted by some close friends and club members over the next 10 days (lucky me!). In between these dinner gatherings, I will spend a little time with a couple of my dear friends and most "mature" family members known as the "Aunts". So there will be some old traditions with some new holiday traditions. I will be selecting all styles of wine (including a couple of new and not yet released "Prototypes" to fit the various cuisines from Rose (ideal with Turkey and Ham) with the Purety Meritage White going with everything through Pinot Noir and into the Reserve Cab Franc, pureCoz and M.Coz to handle the heavier fare. This is kind of like having 3 or 4 "Thanksgivings" through Christmas to end this year and welcome the next!
I wish our pureCru friends and partners much joy this holiday season and in the year ahead. Salute' Eat and drink well. Enjoy every minute, cherish everyone, and stay safe. I look forward to making more memories together in 2022.
Cheers!
Mitch Cosentino
Comments
Commenting has been turned off.
Stay Connected & Receive Private Invitations
Join our Mailing List
Receive periodic updates, invitations and special wine access information