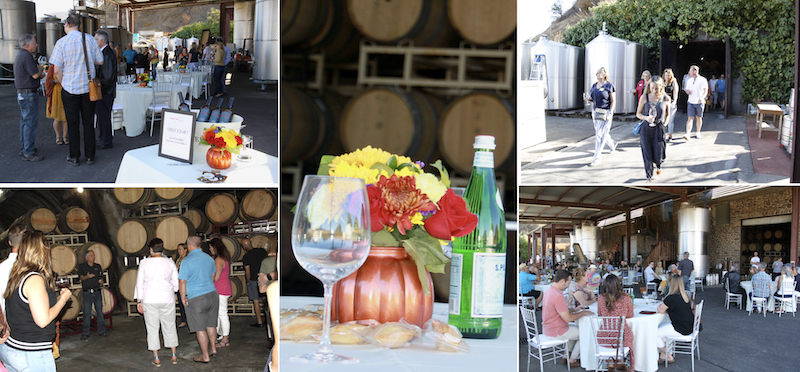 Saturday, October 16th delivered the perfect weather to enjoy our pureCru 2021 Harvest Celebration at the crush pad in Napa. Private clients and long-time friends joined us for a day of festivities at our winery located in the mountains, east of the city of Napa. Invited guests enjoyed an "Exploration of Cabernet Franc" with a tasting of the 2016 current release, a barrel sample of the 2021 juice just two weeks in fermentation, and a library tasting of the 2013. Small bites from Tarla Napa paired perfectly with the wines as I shared stories from each of these vintages. We also toured the old cave for the barrel tasting and had a walkabout in the vineyard areas.
I enjoyed showing our guests the inner workings of the production winery and answering some fun questions! The interaction with this group was festive and energizing. As a special treat, we concluded the event with a preview of "The Prab" allocation wine that I made as a special memorial, dedicated to our old partner and doctor friend, Prab. This wine is a one-time release bottling of his favorite blends of the two rarest clones of Cabernet Sauvignon grown in Napa Valley, including the Secret Clone. Guests were offered a limited allocation of what was only a two-barrel production.
As I wrap up my 42nd harvest, I reflect back on what has been another unique vintage shaped by our drought conditions here. 2021 has given us very small yields both in the vineyards and in the juice to skin ratios among most of the fruit. But the results, although smaller than desired, will produce wines of great density and intensity of fruit concentration and character. Expect this vintage to be terrific, maybe even monumental albeit limited in numbers. Many of the reds are already showing great balance destined to be dynamic and flavorful!
This was truly the perfect day in Napa wine country. The pureCru team and I look forward to hosting our next member event in early spring with a surprise release.
Cheers!
Mitch Cosentino
Stay Connected & Receive Private Invitations
Join our Mailing List
Receive periodic updates, invitations and special wine access information