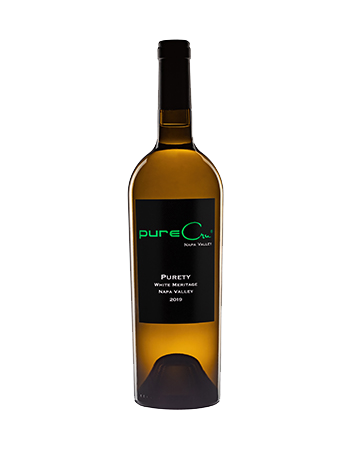 2019 Purety White Wine Blend
BLEND: 63% SEMILLON AND 37% SAUVIGNON BLANC
SINGLE VINEYARD IN THE HILLS OF POPE VALLEY IN THE NORTHEASTERN PART OF THE NAPA VALLEY.
WINEMAKING: BOTH THE SEMILLON AND THE SAUVIGNON BLANC ARE BARREL FERMENTED SEPARATELY IN SPECIALLY DESIGNED FRENCH OAK COOPERAGE MADE SPECIFICALLY FOR THESE VARIETALS. THESE LOTS WERE AGED FOR 17 MONTHS ON THE LEES AND STIRRED WEEKLY. THE FINAL BLEND WAS PUT TOGETHER JUST A COUPLE OF WEEKS BEFORE BOTTLING. THERE WAS NO SECONDARY MALOLACTIC FERMENTATION INVOLVED.
TASTING NOTES: DESIGNED TO AGE! WE REFER TO THIS AS A *RED WINE DRINKERS, WHITE*. VERY VERSATILE WITH FOODS OF MANY STYLES. INTRIGUING AROMAS OF LEMONGRASS, WILD HONEY WITH SPICE AND MINERAL. ON THE PALATE THERE IS GREEN MELON, CITURS WITH A TRACE OF SALINITY AND QUINCE. WITH THAT THIS IS WELL-CENTERED WITH COMPLEXITY, DEPTH AND A TEXTURE THAT COMES FROM THE EXTENDED BARREL AGING. ABSOLUTELY DRY, SUPPLE ON ENTRY TO MID PALATE THEN SHOWING ITS BALANCE AND STRUCTURE THRU TO THE CRISP, LONG FINISH.
SPECIAL NOTE: A PERFECT COMPLEMENT TO THE BORDEAUX STYLE RED WINES OF CABERNET, CABERNET FRANC AND MERLOT. THIS IS MOELED AFTER THE GREATEST WHITE, HAUT BRION BLANC. IT WAS BUILT TO AGE PERHAPS EVEN BETTER THAN MOST OF ITS RED COUNTERPARTS. DESIGNED AND MADE TO RELEASE AS IF IT WAS A RED WINE IN THE SUMMER OF 2022. THIS VINEYARD HAS A HISTORY OF LONG AGING WITH THOSE FROM THE MID 90'S STILL VIBRANT, RICH COMPLEX AND BALANCED TODAY!
THE 2015 WAS NAMED "BEST AMERICAN WHITE WINE AT THE BEST WINES OF THE WORLD COMPETITION"!
~ MITCH CONSENTINO, WINEMAKER