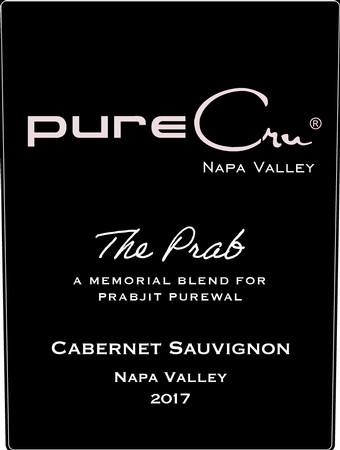 2017 - The Prab
Dr. Prabjit Purewal (Prab), a dear friend and successful cancer doctor with his own clinic in the Stockton area, was extremely instrumental in helping me launch pureCru Winery back in 2008. Starting with one wine (pureCoz Red) and growing into a full-on winery, he maintained great pride for it all. As many who visited the tasting room in Napa know, Prab would come in often and "hold court", hosting others many evenings and weekends.
Although he was very fit and athletic, one morning a couple of years ago, he unexpectedly suffered a massive heart attack and passed within hours. He is greatly missed by all who knew him. In his honor, we have made a very special blend of two of the rarest clones of Cabernet that only exist in a literal handful of vineyards.
The Prab is made from Secret Clone, from one of the vineyards at my former company, and another that we call the "L" Clone, related to where it originated in Bordeaux. This is the last of this blend as the "L" Clone was torn out of the vineyard from where it came to add drain tiles and re-orient the property. Unfortunately, the budwood was not saved and replanted and 2017 was the last of it.
This is a very special blend that was a favorite of Prab's, and it was the obvious choice in making a special dedication bottling for him. A rare wine for a rare individual, only two barrels were made in celebration of his life and what he meant to me and all of us.