Meet our Cru!
Three wine lovers from the central valley join an award-winning Napa Valley winemaker to found pureCru, a winery producing small quantities of unique blends.
"I had been reminiscing about a small, hands-on entity where I could do it all myself again, like I did in the beginning." Mitch Cosentino
Celebrating 30 years of winemaking and with more than a thousand awards to his name, Mitch Cosentino is making another dream come true with his launch of pureCru Napa Valley.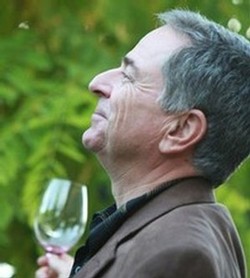 Mitch Cosentino
Cosentino began making wine in small lots in Modesto, California in 1980. Ten years later he moved the Cosentino Winery operation to the Napa Valley, where he continued to make many award-winning varietal and blended wines.
Cosentino has a gift for identifying fruit sources and is highly skilled and artistic in determining blends. He's a big believer in the hands-on, old world use of punched cap fermentation, a labor-intensive, hand-crafted method of winemaking. When it comes to the small lots Cosentino puts into his pureCru blends, this "micro" approach to winemaking allows him to better control the delicate process from the vineyard to the bottle.


Pictured from left to right, Jim Nylen, Don Held, Mitch Cosentino and Prahbjit Purewal
DON HELD

"Being born and raised in the Napa Valley I have always had a love for the area and desire to return. Partnering with Mitch and the formation of pureCru is allowing that dream to come true." Don Held
Don is a principal in The Produce Exchange, an integrated fresh produce company, involved in production, sales and distribution of fresh vegetables across North America. He has been involved in agriculture for the past 35 years ranging from being a CPA specializing in management services for agricultural accounts to growing and management of row crops, tree fruits and wine grapes.

JIM NYLEN

"I was always a drinker of big, bold cabs. Mitch introduced me to blends, and I realized what I'd been missing." Jim Nylen
James (J.P.) Nylen is the founder and president of Nylen Properties Corp., a commercial real estate construction and development firm located in the Central Valley of California, founded in 1977. A passion for great wine and golf led to a meeting with Mitch Cosentino. It didn't take him long to recognize Mitch's talent and pureCru Napa Valley was on its way.
PRAHBJIT PUREWAL

"I've been enjoying Mitch's wines for years. When this incredible opportunity to make truly unique blends with him came up, I was ready." Dr. Prabhjit Purewal
Dr. Prabhjit Purewal is an oncologist and the founder of St. Teresa Comprehensive Cancer Center in Stockton, Calfornia. Dr. Purewal had the good fortune of working with Mother Teresa at a leprosy colony in Northern India early in his career, and named the center after her. Dr. Purewal studied at Albert Einstein College of Medicine New York and Stanford University.